The Document Imaging Services
What does Document Imaging involve?
The processes in creating a Document Imaging System are fairly simple, although the tools being used are quite complex and bewildering to a novice.
In general there are five basic steps;

First is the collection phase, where records are collected and transported to the Document Imaging Bureau.

Second step involves preparation where staples and paper fasteners are removed from the records, and where batches are concerned document identifiers are used to denote the start and end of a batch.

Third step introduces scanning; images are created digitally and at high speeds using state of the art equipment and software.

Fourth step introduces Indexing, and this process creates references to the scanned images, for example an index may consist of Account Numbers, Names, etc, whatever is necessary to pinpoint an Image.

Fifth step is the building of the Document Imaging Database, both indexes and scanned images are linked into a powerful database which can be stored on CD's, DVD's or harddisk storage servers offering fast retrieval across a local or enterprise network, including the Internet.

The services in detail offered by Integrated Imaging Systems are: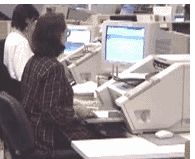 Storage and Retrieval of records are two of the costly functions an organization has to bear whether they like it or not! Paper Records not only take up valuable storage space, but also can be the most crippling to a business, if the records are destroyed by fire, stolen by disgruntled employees, misplaced or lost.

Scanning paper records not only creates a permanent copy which can be stored on a computer's harddisk or CD-ROM, but can be organized with indexes permitting fast and responsive retrieval which can be performed over a network or modem. Storage space and retrieval problems are totally eliminated, resulting in cost savings and improved customer service.

Accounts Payable, Delivery Dockets, Insurance and Payroll records are just a few applications suited to Image Scanning.

No matter the size of paper, A0, A3, A4 etc or colour, we have a solution for you.
Automated Data Capture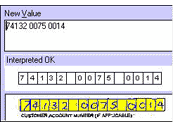 Surveys, Stocktake, Time sheets, Consignment Notes and any Form that presents information in a structured format can have data extracted automatically minimizing data entry and errors, and assist in the index creation of a Document Imaging System.
We can suggest ways of designing accurate, easy to complete Forms or use your existing Forms for automated data extraction.

Our systems include intelligent scanners and software that can read typed, barcode and handwritten text. Each data entry field is programmed to decipher, compare and verify data against preset rules ensuring speed, accuracy and allowing costs to be kept very low when compared to traditional data entry methods.
The output data can be formatted to suit your favorite program or database.
The savings when using Automated Data Extraction compared to traditional keypunching can be as high as 800%.
Data Entry Services
For applications, which are not suited to Automatic Data extraction, we offer full data entry services and verification. Our advanced software programs can be tailored to your application enhancing the speed of our data entry operators, and reducing costs without compromising in accuracy.

No matter the application we can assist by adopting years of experience to your project.
Data Output to CD-ROM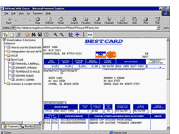 Electronic records, such as Invoices, Payroll, Accounting Reports, Statements can all exist on CD-ROM together with scanned information, providing a comprehensive database satisfying most retrieval inquiries. Imagine typing an Invoice number and by choice being able to retrieve the invoice, the Statement in which it appears, and the line on a Ledger Report showing its value against budgets.

All of the above is possible and taken advantage of by progressive companies. Data can be sent to us in various formats, such as E-Mail, Data Tapes, floppy disks, etc.

Eliminate the need for multipart stationary and the Imaging database will pay for itself, not to mention the added benefits of retrieval.

Savings in production only not including the benefits of automated retrieval and reduced storage space is in the order of 100% to 200%.
Data Interchange Services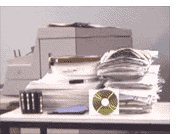 Upgrading from an old computer system to a new one and need to convert data?

Our Data Interchange Services permit files to be converted from one format to another easily and inexpensively.

Convert EBCDIC files to Tar or ASCII and vice-versa. If you are unsure about your format discuss it with us and we will find a solution for you.
Laser Printing and Fulfillment Services
Need to meet printing deadlines, but resources are scarce or not able to provide the needs of the company in terms of design and format?

High-speed laser printers, and a professional team, who can create the forms you need, will ensure that your every need is fulfilled.

Data can be supplied via tape or modem, and we will reformat it if need be, print it and mail sort, so as to cut down on postage costs.
Document Microfilming and Microfilm Processing
There are many applications where files need to be kept indefinitely for many reasons such as for historical, legal, and compliance purposes.

Applications such as:
Legal Contracts/Wills and Testaments
Mortgage/Loans
Engineering/Architectural Drawings and Specifications
Historical Findings/Research Results etc
Although scanning solutions can more than meet the storage and access requirements for any of the above applications, it cannot provide any guarantees, through today's storage media, for future products in being able to accept and read today's imaging formats.

Microfilm is therefore an ideal solution for any record requiring indefinite storage.

Microfilm has been used now for more than 80 years and still there are modern devices which can read, display and print from microfilm.

Microfilm has certainly outlasted every media produced so far that has been used in the storage and preservation of paper records.

We strongly believe as do the major suppliers of microfilm that this technology should not be by-passed in the consideration of document and information storage.

Contact us to learn more on the benefits of microfilm and its' compatibility with today's scanning solutions.