Document Imaging Products
Alchemy Product Family
What is Alchemy?
Alchemy Gold V6 R6.3
Datagrabber
Scan2CD
Alchemy Web Server
Cad2CD
What is Alchemy® ?
Virtually any industry, any department in your enterprise, and any business application can benefit from the power of Alchemy.

You Can:
Manage all your unstructured data in a single repository.
Increase knowledge worker productivity by eliminating paper and microfilm.
Use CD or DVD for archive or distribution.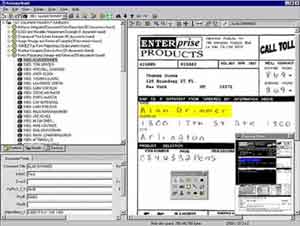 Alchemy creates open document databases to manage the diversity of document and data formats, providing a variety of options for data capture, indexing, storage and archival management. Alchemy also provides a powerful search engine and client software for viewing, compiling, and routing of strategic information throughout an enterprise.

Documents are maintained in their original file formats that may include scanned documents, ERM/COLD files, CAD files, web pages, text documents, e-mail and more.

The software is easy to install and use, requiring no database management skills, no programming, and no client-server expertise. The system is Windows and web compatible.

Alchemy also has powerful programmable interfaces for integration with other business applications.

With an Alchemy solution, you can integrate and organise hundreds of different information formats including computer reports, electronic documents and paper-based records; and provide open access to them for everyone in your business via Internet technologies, LAN/WAN, Intranet or portable media such as CD and DVD.

What makes Alchemy the best choice?
Worldwide leader: installed in over 5,000 corporate and government installations in more than 40 countries. Leader in document archival and report distribution applications.
Rapid application deployment: no other document management system can be deployed as fast and easy as Alchemy.
Flexible solutions: can be installed as a solution for small offices or company departments, or integrated into an enterprise business application.
Diversity of file formats supported in a single repository: uniquely combines TIFF, COLD, Office files, PDF, HTML and many popular PC file formats into one electronic filing system.
Alchemy consists of two main programs: Build and Search. Optional modules add special features such as scanning and OCR, COLD/COM file import, Web browser access, AutoCAD support, and task automation.

Alchemy Build is used by those responsible for creating and contributing to document databases. It includes a very powerful engine for full-text, document field, folder field and annotation text indexing.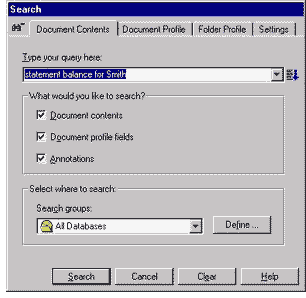 Alchemy Build can archive an entire document database (documents, data, full-text index, search program and viewers) to any storage media (CD, DVD, RAID etc). Alchemy remains the industry leader in this and is popular in all industries that are required to archive electronic documents.

Alchemy databases are compliant with the Open Database Connectivity (ODBC) industry standard and can be accessed using SQL tools and applications. Unlike other client/server database or document management systems, Alchemy requires no database management skills, no programming, and no client/server expertise to operate.

Alchemy Search is the full-featured Windows client used for read-only access to the document databases created with Alchemy Build. Each database can have one to hundreds of simultaneous users. Access to databases means the end user can query by full-text or data fields, view a hit list, view the contents of a document or data record, and print, fax, or email the document. Accessing databases using a Web browser is simple, through the optional
Alchemy Web Server
Unlike similar sophisticated and powerful search engines and document managers, the Alchemy user interface is simple to learn and use. Customers range from microfilm researchers to CEOs.