Alchemy Product Family
What is Alchemy?
Alchemy Gold V6 R6.3
Datagrabber
Scan2CD
Alchemy Web Server
Cad2CD
What's new Alchemy V6 R6.3?
Alchemy Gold Feature Overview
32-bit software compatible with Windows 95/98, Windows 2000 and Windows NT.
Includes the document database manager developed by IMR specifically to index and store object files and data together. Files are stored in their native format. Each database can easily scale to handle millions of files and records and still maintain exceptional query and retrieval performance. No other database is required to operate Alchemy.
ODBC compliant database for SQL access to Alchemy indexes and documents.
Scalable multiple database architecture enables utilisation of separate databases.
Industry standard COM and ActiveX APIs for customisation and integration (requires API Toolkit license).
High-performance full-text indexer with industry-leading compression supports most text file formats and is unsurpassed for ERM/COLD indexing. An amazingly small 3-5% index overhead is typical.
Includes many popular PC file filters and viewers, including TIFF, Office 97/2000 and HTML. PDF files are supported with a user-supplied copy of Acrobat.
Annotate image files with sticky notes, stamps and redaction of sensitive data.
Protect documents and data with security at the database, folder or document level.
Database template design: fields, profile and folder templates, indexing methods, lookup tables, stop words.
Virtual storage feature stores data on RAID, any mapped hard disk drive, CD-R, CD-RW, ISO image, CD/DVD duplicators, MO or other logical storage devices.
Intelligent on-the-fly data compression reduces storage cost.
CD-SPAN recording and retrieval capability enables automated multi-CD search.
Read-only Alchemy Search client for LAN/WAN or CD/DVD access provides basic document management and prevents the user from deleting or modifying the documents or data. Flexible installation: runs direct from an archive disc, a network drive or on a client.
Many search options: Boolean, adjacency, fuzzy, combined full text and data field, date range, filename, numerics, relevancy ranking, search list refinement. Extremely fast query results.
Output options: advanced printing functions, send to fax, retrieve to hard disk, send to e-mail, export data to ASCII delimited file.
Personalized user interface: each user can set viewing and query preferences.
Forms overlay designer for report files.
The Pro license for service bureaus has the same features but is licensed and sold separately.

How Alchemy Works
The Alchemy process is very simple. First-time users are up and running in little time.
Easy. Add files to the database using drag-and-drop from Explorer (scanned images using the Scan2 option, computer reports using the DataGrabber option). This step can now be shared by several workstations.
Powerful. Automatically index documents and data by content or attributes.
Searchable. Query the database by full-text, data fields and annotations. One search covers it all. Search across multiple databases with one single query.
Accessible. Access documents over a LAN or WAN, from a stand alone PC, a CD or DVD. View documents, related data and OCR text together. Print, FAX, e-mail or retrieve the documents and data. Clients can optionally be configured to annotate images, check in new files or enter new data.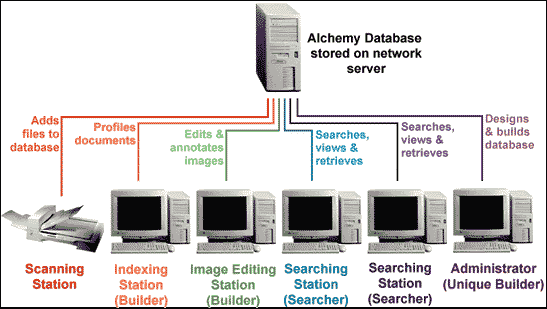 The Alchemy Database Architecture
IMR developed a unique hierarchical object database structure that is at the heart of Alchemy, which is now on its 6th generation and is field-proven in thousands of business applications. Alchemy's large installed base makes this database architecture one of the most widely used databases for imaging, COLD and document management applications. And experience in real world applications continually proves that compared to a relational database application, the Alchemy architecture is faster, more efficient with smaller overhead, and is easier to maintain.

Unlike other database used in imaging and COLD applications, Alchemy has highly developed end user interfaces that are completely tuned for one fundamental application: managing documents and data. As a result, Alchemy does not require any database administrator training. Typical users are deploying their first Alchemy database the same day as installation.

Alchemy's unique architecture allows the database index files, documents and the Search program to be located anywhere on a network, or packaged all together on an archival disc. This unusual flexibility enables the end user to configure an Alchemy system to meet his/her specific needs, not the other way around. While the database has many unique features and is virtually maintenance-free, it is also open to other applications through the ODBC driver interface.

System Requirements
Windows 95, Windows 98, Windows NT 4.0, Windows 2000
RAM requirements for 95/98: 32 MB minimum, 64 MB recommended, 96-128 MB optimal
RAM requirements for NT/2000: 64 MB RAM minimum, 128 MB recommended
Pentium processor
40 MB hard disk space for Build installation
22 MB hard disk space for full Search installation
Free temp space for database building: should be at least twice the size of the database buffer setting.
Supported CD writer or other disk drive
SCSI adapter recommended by drive vendor
For PDF indexing: NT Workstation with 64 MB RAM highly recommended
Alchemy Search: it is recommended to use the same amount of RAM for PCs using Alchemy Search. Viewing large files (i.e. multipage TIFF, PDFs) may require the use of temporary hard disk space. A good rule of thumb is to reserve free disk space at least twice as large as the largest file in the database that will be opened for viewing. For example, if the largest file is 10 MB, keep at least 20 MB free on the hard disk.

Introducing the New Alchemy Client
A configurable Windows client for shared Alchemy databases
You can:
Create and deploy customized Alchemy clients on a local area network
Create special function clients, such as an "annotations station" or "indexing station", in less than 60 seconds
From one PC, control global database operations and properties such as Security, Database Design and Build to CD
Remove selected user interface functionality such as Delete, Clear, Edit Fields, Rearrange Panes and more
Disable the Complex Search interface so the user can only access your Simple Search template
Do this all with NO programming required - it's point and click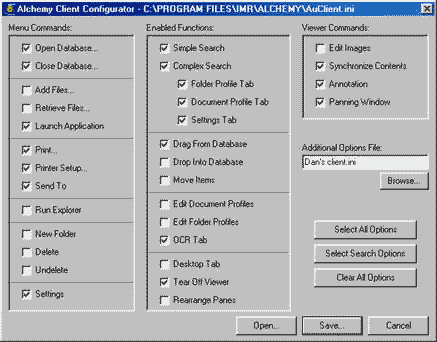 IMR, the founders of the Alchemy suite of products, is pleased to announce a new addition to the Alchemy product line, specifically designed to help administrators who manage an Alchemy shared database environment.

The Alchemy Client and the Client Configurator administrator module together create a new alternative to our classic Build and Search licenses, enabling an administrator to configure user interfaces with specific functionality that previously was available only in the full Build interface. Administrators have always been able to set some user configurations at the database level. Now for the first time, the interface can be extensively customised at the user level too.

Compare Alchemy Client to the classic Alchemy Build or Search programs
The Alchemy Client comes configured out of the box with functionality that is between the classic Build or Search programs.
| | | | |
| --- | --- | --- | --- |
| Function | Build | Client | Search |
| Create New Database | Yes | No | No |
| Delete Database | Yes | No | No |
| Clear Database | Yes | No | No |
| Purge Files or Images | Yes | No | No |
| The Design Menu | Yes | No | No |
| Build Database | Yes | No | No |
| DataGrabber Build | Yes | No | No |
| Edit database properties | Yes | No | No |
| Security management | Yes | No | No |
| View database log files | Yes | No | No |
| Forms overlay design | Yes | No | No |
| CD Copier | Yes | No | No |
| Run optional Scan2 module | Yes | Yes | No |
| Run optional CAD2 module | Yes | Yes | view only |
| Edit document and folder fields | Yes | Yes | No |
| Add new files | Yes | Yes | No |
| Edit images | Yes | Yes | No |
| Annotate images | Yes | Yes | No |
| Delete items | Yes | Yes | No |
| Insert new folder | Yes | Yes | No |
| Move items within a database | Yes | Yes | No |
| Search and view documents | Yes | Yes | Yes |
| Launch application | Yes | Yes | Yes |
| Print | Yes | Yes | Yes |
| Retrieve files | Yes | Yes | Yes |
| Send To Email | Yes | Yes | Yes |
| Change settings | Yes | Yes | Yes |
With the Client Configurator, the Client can be configured by disabling or enabling the functionality shown in
bold letters.

How It Works
No other document management product is easier to customize and update.


Configure user functionality using the Client Configurator. The administrator can easily test different combinations of features; it takes only seconds to add or remove a feature from the Alchemy Client interface. Each user can have a personalized interface, or a configuration can be created and deployed for a group of users.
Deploy Alchemy Client on workstations.
Modify Client functionality. This can be done at any time by the administrator. Adding or removing features takes seconds. Updates are written to a special personalization file.

Time-saving productivity tools
The Alchemy Client Configurator module includes a button that automatically configures the Client with classic "Search" read-only functionality. Another button restores the original out-of-the-box settings.

New Customizable Features
Alchemy administrators can take advantage of some new options that were previously not available in Alchemy Build or Search.
Add Annotations to Search functionality
With only two clicks, the Client can be configured to emulate classic Search functionality plus the ability to add annotations to a supported image file. Note: Alchemy Search is a separate read-only program and cannot be modified or upgraded to the Client.
Edit Document or Folder Fields
This enables a client to have rights to edit document fields and/or profile fields. One possible use model is to allow a scan station operator to scan into a folder and update the document fields, but not have the ability to edit any of the folder fields which are preset by the administrator.
Restrict the Delete operation
This operation can now be assigned to selected users, and restricted from others.
Rearrange Panes
This can be disabled, so the user cannot accidentally re-arrange the Alchemy three-pane workspace view.
Customize the Search dialog box
The standard Search Database interface can now be modified with several new options.
To insure that all users are conducting queries through your Simple Search template, disable the Complex Search option.
For applications where some parts of the Complex Search interface are desirable, but you do not want the user to have access to the Search Settings tab.
Moving items within a database
To restrict a user from accidentally moving documents into the wrong folder, disable Move Items. This can be very useful when the database has thousands of folders, a common application for Alchemy.
OCR text view
Disable the OCR tab if you do not want to show the OCR text of an image to the user. Note: you can still do full-text search of that text.

System Requirements
Alchemy Gold R6SP3 must first be installed on a PC where Alchemy Client will be installed. Alchemy Client is designed to run on the same Windows versions as Alchemy Gold R6SP3 build installations. Please consult that data sheet for specific requirements. The optional Scan2 module is required for each workstation that requires scanning. The optional CAD2 module is required for each workstation that needs to add and index CAD files.