Alchemy Product Family
What is Alchemy?
Alchemy Gold V6 R6.3
Datagrabber
Scan2CD
Alchemy Web Server
Cad2CD
AutoCAD file indexing and viewing module
What is CAD2CD?
CAD2CD™ is an add-on module for Alchemy that indexes the text, attributes, layers and blocks in DWG and DXF files, and provides a runtime DWG/DXF viewer for read-only access. Use CAD2CD and Alchemy to create CAD project databases and distribute CAD files on CD.

Replace other expensive, unreliable or inefficient storage and distribution methods such as paper, vellum, floppies, file cabinets and drawers or mag tapes.

CAD2CD extends Alchemy's fast search and retrieval to DWG and DXF files. Find and view old drawings or revisions in seconds. Search for data buried in a source file without running AutoCAD or an expensive document manager. Give anyone access to project data and get yourself out of the file retrieval business.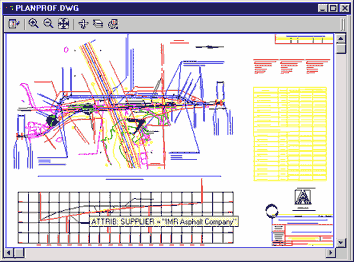 Feature Overview
Compatible with files made in AutoCAD 2000 and earlier versions and DXF.
Automatically indexes the data in the file: text, attributes, tags, values, layers and blocks.
Supports 3D, nested blocks and Xrefs.
Resolves Xref links to insure that all print files and objects are included with the drawing file.
Supports Boolean full-text search for the indexed data.
Search data is highlighted in the viewer using unique blinking dots feature. Data is easy to locate, even in a complex drawing with several layers.
Turn layers off and on, view saved or model space.
Print to Windows supported printer.

How CAD2CD Works
Drag and drop DWG or DXF files into the Alchemy database.
Optionally, add other project files (Word, Excel, raster images) to the database.
Write the files to the destination disc. During this stage, Alchemy indexes the contents of the CAD files, resolves Xref links and optionally copies the viewers to the disc.
Files are now ready for search, retrieval and viewing. The CAD2CD viewer is installed on the same computer or disc as the Alchemy Search program.
Open Alchemy Search and query the database.
Search words are marked in drawings with blinking dots. This is the quickest way to find information in an AutoCAD or DXF file.
A search will also return other documents that match the search criteria.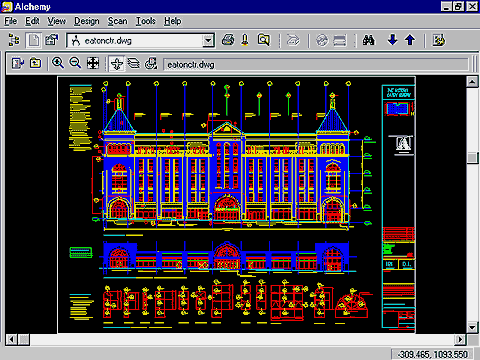 System Requirements
Most AutoCAD applications create large, complex files and are processor, disk and memory intensive. CAD2CD will benefit from the most powerful, dedicated workstation available to the user. Windows NT is highly recommended.
Same version of Alchemy Gold or Pro license on same workstation - required.
Windows 95, Windows 98, or Windows NT
For 95/98: 32 MB minimum, 64 MB recommended
For NT: 64 MB RAM minimum, 128 MB recommended
Pentium processor
1 MB free hard disk space for programs
CAD2CD viewers in Alchemy Search: we recommend the same amount of RAM for PCs using Alchemy Search with CAD2CD. Viewing large DWG, DXF or raster files may require the use of temporary hard disk space. A good rule of thumb is to reserve free disk space at least twice as large as the largest file in the database that will be opened for viewing. For example, if the largest file is 10 MB, keep at least 20 MB free on the hard disk.